Surprised with the lack of Survivor chat, seeing that S22 has begun!
Firstly guys, sorry I couldn't contribute again during Nicaragua. I've been having ongoing computer issues for months and it's been driving me up the friggin' wall.
Anyways, Nicaragua was an average season, but I still enjoyed it.
I've downloaded the first episode of S22 and am about to watch it. Episode 2 is shown in the US tonight. I don't know when it will be shown on TV here, so don't read this if you can't watch it yet!
Personally, I like the Redemption Island idea. It's been used in the past in the Filipino and Israeli versions of Survivor, and I've always wondered why they hadn't used this twist in the US version. It's a lot better than the Outcasts twist in Pearl Islands. At least the players know that somebody who's been voted out will eventually return. It will add an extra dimension to the game, it may even affect the way tribes and alliances decide on who to vote out. It's good to see something different, but I wouldn't want it in every season though.
I'm not surprised in the slightest that Boston Rob and Russell are back. The rumours were eventually true. They will provide a good season to watch, but I'm sick to death of returning contestants. The show can survive without them. Hopefully they don't hog all of the airtime. And I know what the producers have done to prevent them from being the first two voted out.

Despite that, I'll be extremely surprised if either of them win.
I've watched all of the castaways' bio videos, so I'll post my first impressions and thoughts on them before I watch the first episode. It's not the
most
diverse cast ever but there are some good characters, potential key players and a good batch of hot chicks.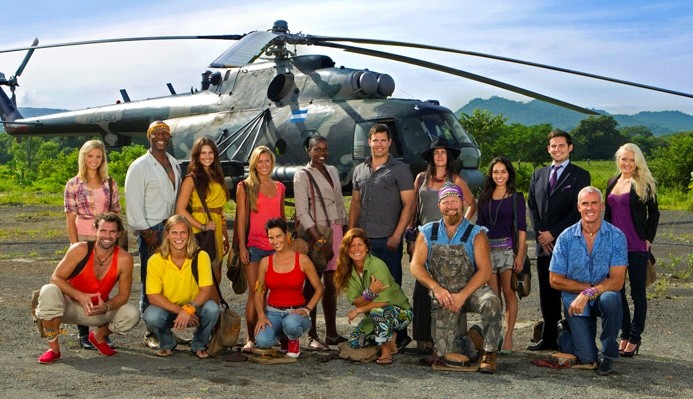 Rob's Tribe (Ometepe)Andrea -
Cute blonde girl. Raised on a farm and says she's hunted and shot seven deer. She's a real outdoors person and says she's not afraid to get stuck into work and get her hands dirty. Sounds good, but it seems as though there are a few girls here that have that same mentality. She may surprise, I hope she lasts a while because of the eye candy, but I get the feeling that if she's not in a strong alliance, she'll be voted out early.
Ashley -
Another hot blonde chick. Also raised on a farm, she's a beauty pageant queen, a nurse, and also played basketball professionally in Europe. She's the total package. I've got high hopes for her, because it seems like she isn't just good looks. She's the type that will be strong both socially and in challenges. I really think she'll do some damage.
Francesca -
The African-American chick, mid-30s, attorney. Even before the game's begun she says that she's already got an opinion of everyone and given them all a nickname. Enjoys trash-talking and makes a big deal about harassing people in school. She seems like she's smart, but also very opinionated, and that may get her in some hot water. Seems like she'll be some sort of villain, but not in the immature "ghetto-trash" way like Na'Skanka and Yasmin in recent past. If she can't keep her mouth shut, she'll be out very early.
Grant -
The dreadlocked bloke, yoga instructor, had a short stint in the NFL. He says he's looking forward to when times get tough to test his mental strength. I can see him aligning with Boston Rob, as he says that he's his favourite Survivor. Seems like a likeable guy, who'll be strong in challenges. I get the feeling that his physical game may outweigh his strategic game and he may end up being too nice for his own good. But what do I know?
Kristina -
One of the older women, a law student in her 40s, has an autistic son. She takes being called a pitbull as a compliment, and that cries villain to me. I get the impression that she will be a key strategic player in this season, as she ain't stupid. It seems to me that she's quite arrogant and will rub some people the wrong way, and that could count against her if she makes it to the end. I think she'll be one of those players who people either love or hate, with no one in between.
Matt -
a.k.a Fabio 2.0. He wants to give off the impression that he's a goofy free spirit that doesn't know what he's doing. Remind you of somebody? He says that he struggles being around the same people for long periods of time. Because of that, I don't know whether he'll become a key player or not. The thing that made Fabio so good was because he was unique. I hope this guy doesn't turn out to be a carbon copy.
Natalie -
At 19, she's the youngest girl to ever play Survivor. Even younger than "Kelly Who", a.k.a Purple Kelly. She's a member of some dance group, and is willing to play the flirt card. Because of her age, she'll be underestimated and won't be considered as a threat, but I reckon she will surprise some people. She doesn't seem as naive and weak-minded like Purple Kelly.
Phillip -
The big black dude. He's the oldest castaway this season at 52. Was in the army, then became a special agent with the Department of Defence. It looks like he doesn't fit the trend of black guys with no social game, like James. With his background he has the potential of being a very strategic player but I feel that he's either gonna last a while, or get voted out early.
Russell's Tribe (Zapatera)David -
The guy in the suit. He's a defenses attorney for high profile crimes, and has the highest IQ of any Survivor castaway. He says that during school, his parents put him into a program which would tell him what career he was fit for, and his options were a king, president or attorney, and he chose the latter. He also says that he'll have to bring himself down to everybody else's level. He's a conceited prick, but will provide good entertainment. With his strategic prowess, I think he'll go deep.
Julie -
The oldest woman this season, a 50 year-old firefighter. She's struggling with an ugly divorce, paying alimony and child support, and is on the show purely to win the money for her kids. Because of this I think she'll be one of the fan favourites, someone that many will want to root for. She seems like a "don't take no crap" kind of person. Being built like a brick-shithouse, her strength will lie in the challenges. One thing to point out, she's one of the very few in this cast that is a fan of Russell.
Krista -
This girl looks exactly like Samoa winner Natalie White. She has the same southern drawl in her voice. She even has the same occupation. And she's on Russell's tribe. I think the differences end there though. She's made it clear that she hates Russell, so I don't think she'll be his pawn. She seems nice, but all she is in my eyes right now is eye candy. I wouldn't be surprised if she goes far, but I wouldn't be surprised if she goes early. Pretty much the same thing I said to myself about Natalie before Samoa began.
Mike -
One of this season's alpha males. He's a former marine and spent time in Iraq. Seems to me like he's a very likeable, so he won't have trouble getting people on his side. If he can make it to the merge, he may become a huge threat because of that likeability factor and physical strength. Gives me the impression that he's like a younger version of Tom Westman, very honourable. Possible fan favourite?
Ralph -
One of my pre-season favourites. Just the way he talks is hilarious. He's a good ol' farmer from the South with a real positive outlook on life. Reminds me a lot of Big Tom as far as lifestyle goes, a real hard worker. He's an applicant, meaning he's a true fan of the game, unlike many who are recruited by the producers these days. I don't know how he'll go strategically, but I really hope he lasts a long time due to his entertainment value.
Sarita -
This chick's a bit on the eccentric side. Her family lived in a yurt (nomadic tent) in the hills. She looks like she's got good social skills, but she aims to play the game completely with her heart. Everybody knows you need to play with your head if you want to win. She seems like a bit of a wildcard if you ask me.
Stephanie -
Another of the hot chicks. She apparently starred in some short horror film called Zombie Hunter. I think she could be a bit of a loose cannon. She know the game well but is very opinionated and unintentionally offends people. Once again I wouldn't be surprised if she lasts 3 days or 39 days. I also wouldn't be surprised if she is the girl that Russell tries to tuck under his wing.
Steve -
Another former NFL player, with a career spanning 13 seasons. Apparently he was in the same Dallas Cowboys squad that included Gary Hogeboom from Survivor Guatemala. He seems very likeable, but will most probably have to play the game like his former team-mate. He'll be targeted as a physical threat, and will have to keep his past a secret. After calling Russell a "little idiot" in his bio interview, I wouldn't be surprised if there's a personality clash there.
Another factor, especially early on will be who gets along with Rob and Russell. The people who don't may be looking at an early boot simply because they clash. Remember, these first impressions and predictions could turn out to be completely wrong!